Uniform
What should my child wear to school?
Boys
Navy sweatshirt or jumper
Sky Blue shirts or polo shirt
Grey trousers/shorts
Black school shoes (no markings or logos & not canvas/trainer style)
PE KIT
Black pumps
Conventional trainers for outdoor activities (no hi-tops)
Navy shorts
White t shirt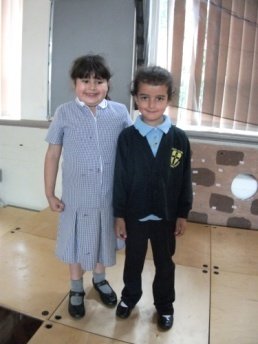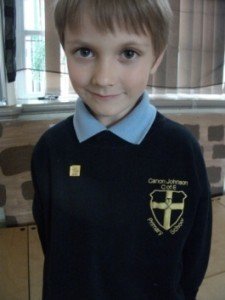 Girls
Navy sweatshirt, jumper or cardigan
Sky blue blouses or polo shirts
Grey trousers/skirt/pinafore skirt
Blue & white checked dresses in summer
Black school shoes (NO HEELS, markings or logos & not canvas/trainer style)
Items with the school logo can be bought from MCS Uniforms, Market Street, A-U-L and plain items from any children's clothes outlets. If you are eligible, clothing grant forms are available in the school office.
JEWELLERY
For safety and security reasons the Governors do not consider earrings to be appropriate. If your child has pierced ears they may wear studs but they must be capable of taking them out and putting them back in. No other jewellery is allowed. If for any reason they come to school wearing earrings they will have to be removed. If children wish to wear watches to school they must look after them. Although teachers will store them during P.E. activities the school cannot be responsible for the loss of or damage to, these items.
The Governors do not consider make up, nail varnish, transfers or tattoos to be appropriate. Extremes of fashion will not be tolerated.